Staff Profile - Holly Carpenter
Meet the teachers and staff at Rogers Adventist School! Every month we feature a fabulous staff member and ask them 10 important questions. Holly Carpenter teaches the strings program and directs the student orchestras at RAS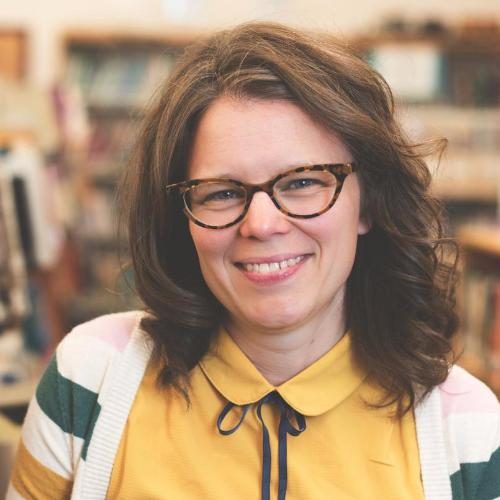 Question 1: How long have you been a teacher?
22 years
Question 2: How long have you been teaching at Rogers?
1.5 years
Question 3: Who are some important people in your life?
My children, Abigael and Smith, and my husband Schuan, my parents.
Question 4: What inspired you to be a teacher?
My violin teacher, Mrs. Spring (founder of the RAS Strings Program), invited me to study pedagogy and student teach my freshman year of college.   My plan was to be a pastor, but I found the teaching enjoyable and interesting and when I was a pastor I always had a small studio.  What continues to inspire me is that every child is unique, and the challenge to teach to the child in front oenergizes me.
Question 5: Have you ever thought about a different career? If so what? 
I have had a different career.  I was employed as a pastor for 6 years and a lay church planter for an additional 8 years, I have two MA's in Hebrew, and I considered teaching at the collegiate level in Biblical and Medieval Hebrew.  I still consider myself to pastor my "congregation" of students.  For me teaching is so much more than the subject matter - it also includes pastoral care for the students in my studio.  So my two careers have melded into one. 
Question 6: What is the best part about your job? 
Watching my students develop over the course of many years.  To have a front row seat as they become mature, caring citizens is an honor.

Question 7: What is the worst part of your job? 
When a child doesn't believe that they can play an instrument - there is a lot of rhetoric about "talent" and children are labeled as having talent or not.  Every child can succeed, I truly believe that, and I want my students to know that too.  Combating the concept of "talent" is the most difficult part of my job.  The reverse is also true: if a child does well, and the comment is "oh you are from a musical family" or "you are so talented" that negates their hard work and practice.

Question 8: What do you hope to achieve by being a teacher?
I hope that my students learn to express themselves through music - if they are happy, sad, angry, joyful, I hope and pray that music is there to give them an outlet for their feelings.  If every piece of music they play contains their life experience, nuanced in their musical expression, and above all, reflects a relationship with God, then I have done what the Lord has called me to do.

Question 9: Do you have any heroes? 
Yes!  My Grandma Smith was a teacher, and I greatly enjoyed learning from her, but also hearing her stories of students.  She inspired me in many ways, but her love of students is what has had the most impact on my life.  One of my favorite pictures of her is a photo of my brother, myself, and my Grandma under the kitchen table!  We were clearly involved in some sort of imaginary fort building and Grandma just crawled right on under.  That is the kind of a teacher I hope to be.  If there is an imaginary dragon to slay, I want to be right there with the kids swinging an imaginary sword!

Question 10: What's something special about the grade level that you teach? 
What is special is that I teach EVERY grade - pre-kindergarten through college!  The most unique aspect of my job is that I have students all the way through their academic career, so we grow together, and I have the immense joy of seeing the beginning bowhold all the way through to the finished product of advanced concertos.
Bonus Question: If Mrs. Bryant randomly cancelled school for the day, what would you do on that day?
I would start the day with extra long devotions and read for a few hours, copy out some Psalms in Hebrew, then translate and reflect on them, then a four hour long walk or bike (depending on the weather), a long practice session, probably several of those, a walk with each of my children and my husband one-on-one, more reading, write, organize several closets, go on another walk, quilt...I think she would have to cancel for more then one day for me to fit it all in!