Student Profile - Ruvimbo
Rogers Adventist School has some amazing students - and you'll know a Rogers' kid when you see one because they have something special: a smile, a kind word, a thirst for knowledge, a love for Jesus.
Meet Ruvimbo, a 6th grader in Mrs. Solis's classroom.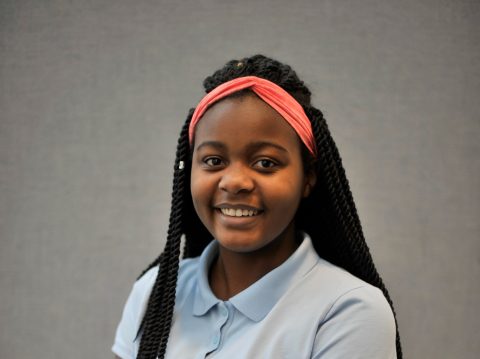 Q: What's the best thing about being a 12 year old?

A: I get more privileges in my house. Like when I was 11, I couldn't sit in the front of the car. But now I can, since I'm 12.

 

Q: What do you usually do at recess?

I play Bump. If you've never played, it's a basketball game where everyone stands in a line in front of the basket. You try to get the person out in front of you by shooting the basketball and making it before they do. That's the popular game right now.

 

Q:What has been your favorite activity or project this year in school?

A: Drug Free Week/Red Ribbon Week – I like dressing up.

 

Q: What is your favorite book?

A: Something in Between, by Melissa de la Cruz.

 

Q: If you could only eat one thing for a whole week, what would you choose?

A: Jolly Ranchers, specifically the green apple ones.

 

Q: What's a food you can't stand?

A: Mushrooms

 

Q: What games do you like to play?

A: Volleyball, Dutch Blitz

 

Q: What is your favorite thing to do with family?

A: Travel – mostly we go to Zimbabwe in Africa. We stay for the summer.

 

Q: Is there something you would like to do, or a place you would like to go in the next year?

A: Florida – my friend lives there and I really want to visit her and I like beaches.

 

Q: What's something you hope you'll learn this year?

A: To be a better leader.